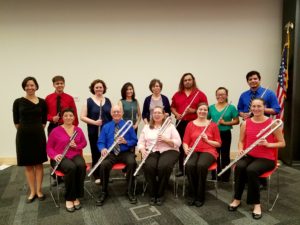 The FC is comprised of flutists (advanced high school, college age and above) from the St. Louis community of varying careers and musical backgrounds. The choir performs regularly during the season (September through May) at venues such as nursing homes, FSSL events, church services, school tours, flute recitals, etc.
Our ensembles features piccolo, C-flutes, alto, and bass flutes. Members have the opportunity to play on all instruments of the flute family as we take turns on parts. Musical selections include a diverse mix of popular music, arrangements of famous classical works, and modern compositions written for flute ensembles.
The FC practices on Sunday evenings at the Union United Methodist Church from 6:00-8:00PM.
Union United Methodist Church
 3543 Watson Rd, St Louis, MO 63139
Auditions

New FC members are accepted year-round by audition. Auditions are conducted for placement/programming purposes. Prospective members are invited to sit in (listen or play) at a Sunday rehearsal if joining mid-season. All dedicated and interested flutists are welcomed ensemble members. Please keep in mind that weekly rehearsal attendance and commitment is required due to one-two member part assignments.
Check back soon for the annual audition date. Please contact the director for audition and membership inquiries.
Audition Preparations: (Memorization is not required)
Scales:

All 12 Major Scales

Chromatic Scale

Scale range: play fullest range possible

Two contrasting musical selections (2-4 minutes/each) that highlight your musical and technical abilities

Prepare one of the excerpts on piccolo if you are interested in playing piccolo in the flute choir

Please bring a copy of your music to the audition for the director

Brief sight-reading comparable in difficulty to the FC repertoire
Please contact director, Nicholas Baker, with any questions you may have.
nbakerpf@gmail.com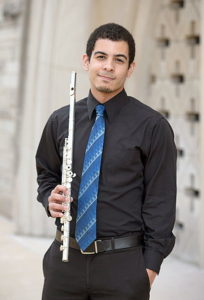 FSSL Flute Choir Photos